Future Of ECB Monetary Policy Under Discussion
Division Over QE
The discussion around the likely direction that ECB monetary policy will take once Mario Draghi leaves as President is building in importance. Recent data weakness out of the Eurozone is creating more division around the potential use of further QE. Many of the key member states have noted their opposition to further QE with German, France and the Netherlands, as well as members of the ECB's inner circle Executive Board pushing back against further asset purchases.
Recently, we heard Jens Weidmann, president of the Bundesbank criticising Draghi who noted that division among ECB policymakers could undermine the impact of monetary policy. However, Weidmann argued that discussion about all measures is "absolutely necessary".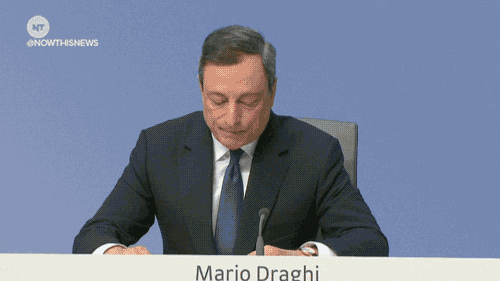 Weidmann has said that he will stand against any attempt by incoming ECB president Christine Lagarde to increase ECB asset purchases which are currently near the bank's self-imposed 33% limit. Weidmann argues that this limit is even more important now and must remain in place. In light of the division among ECB policymakers and the fierce opposition from the president of the Bundesbank, it seems unlikely that we will see further increases in asset purchases from the ECB though we could still see some lowering of the deposit rate.
ECB Meeting Minutes On Watch
The release of the September ECB meeting minutes is expected to shed more light on this discussion. Given that some players anticipated a larger move from the ECB at the last meeting, traders will be eager to see whether the bank discussed the likely need to lower the deposit rate (or eas further in any regard) over the remainder of the year.
Data out of the Eurozone has been trending lower over recent months headlined by softy CPI readings and recently, cycle lows in manufacturing readings. Data out of Germany specifically has been especially weak with the manufacturing sector moving lower again over September alongside a near-1% fall in the services sector. While the services sector remains in expansionary territory for now, at, the composite (all sector) readings have now fallen to 48.5.
However, despite recent data sets clearly moving lower, with domestic forecasts downgraded also, the German government has not yet signalled that it is willing to end its "black zero" budget policy. However, it has said that it will do so when it senses a more serious risk of recession. Following the contractionary Q2 GDP reading poses the risk of a technical recession should Q3 GDP negative also. However, it will come down to whether the German government views the slump as temporary or not when deciding whether to adjust its current fiscal approach.
Technical & Trade Views
10YBUND (Neutral, Bullish above 176.75, targeting 178.82)
10YBUND From a technical and trade perspective. Price action has been muted since last update. However, longer-term VWAP remains supportive, as so momentum/sentiment studies. I still prefer a move higher and I will be monitoring price action if we move back above the monthly pivot at 176.75 looking to position on a retest for a move up to test offers around the monthly R1 at 178.82. On the other hand, if we fall lower from here I will look to reassess at deeper levels.
Please note that this material is provided for informational purposes only and should not be considered as investment advice. The views discussed in the above article are those of our analysts and are not shared by Tickmill. Trading in the financial markets is very risky