UK Parliament Suspension: Next Steps and Market Impact
Queen Approves Request To Suspend Parliament
In a stark development of the ongoing Brexit saga in the UK, PM Johnson has had his parliamentary suspension request approved by the Queen. GBP tumbled yesterday as reports flooded in of Johnson's request, which was later approved by the British Monarch. As such, UK parliament will now be suspended just a few days after MP's return to work from their summer recess. Johnson told reporters that the Queen will make a speech to explain the "very exciting agenda" ahead. Johnson is planning to take the UK out of the EU on the October 31st deadline, with or without a deal, and this latest development has significantly increased the chances of him doing so without one.
Johnson Comes Under Fire
As expected, the news has provoked widespread outrage and Johnson has immediately come under fire from across the political spectrum. Speaker of the House of Commons John Bercow, who usually refrains from partisan comments, voiced his fury, calling the move a "constitutional outrage". Bercow continued, saying:
"However it is dressed up, it is blindingly obvious that the purpose of [suspending Parliament] now would be to stop [MPs] debating Brexit and performing its duty in shaping a course for the country."
Leader of the Labour party Jeremy Corbyn was also severe in his criticism, saying:
"Suspending Parliament is not acceptable, it is not on. What the prime minister is doing is a smash and grab on our democracy to force through a no deal,"
Jo Swinson, leader of the Liberal Democrats, echoed these views, saying:
"By suspending Parliament to force through a No Deal, Boris Johnson and the Government would remove the voice of the people. It is a dangerous and unacceptable course of action which the @LibDems will strongly oppose."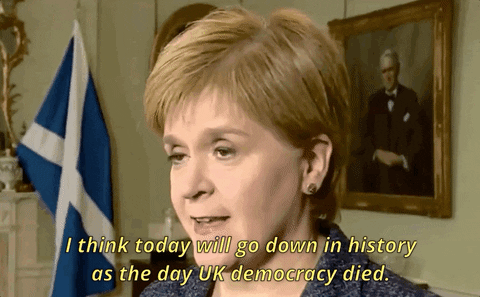 Johnson Responds To Cross Party Opposition
Johnson's request for a parliamentary suspension comes on the back of a joint statement issued by a group of cross party MP's earlier this week, announcing that they had agreed a strategy for blocking a "no deal" Brexit and would pursue a legislative means to achieving this. The group are planning to use parliamentary procedure to require the PM to request an extension to Article 50 such as was used in April to force Theresa May into pursuing an extension.
MP's Form Alternative Parliament
The backlash against Johnson's move has been so severe that many MPs have agreed to form an alternative parliament and continue meeting outside of the House of Commons. The "Church House Declaration" has been signed by nearly 200 cross party MPs.
Shadow chancellor John McDonnell, Liberal Democrat leader Jo Swinson, SNP Westminster leader Ian Blackford, Plaid Cymru Commons leader Liz Saville Roberts, Green Party MP Caroline Lucas and Change UK leader Anna Soubry were all at the initial signing ceremony. The declaration follows Jeremy Corbyn's announcement that he had written to 116 Conservative and independent MPs, including former Tory leader Theresa May and Philip Hammond, asking them to back efforts to block a no-deal Brexit.
Corbyn Calls For Vote of No Confidence
With MPs now only looking at a few days back in parliament before it is suspended, the chances of taking control of parliamentary procedure to force an emergency debate on Brexit seems unlikely. At least until after the suspension has ended. In which case, focus might shift back onto Corbyn's plan to hold a vote of no confidence.
Corbyn has suggested that a vote be tabled against Johnson and if Johnson loses, Corbyn would head up a temporary government and ask for an extension to Article 50. Along with calling for snap elections in the UK and campaigning for a second referendum. However, many across the political spectrum are opposed to Corbyn being PM, even temporarily, and so it seems unlikely this strategy would succeed either.
What Now?
MPs will return to parliament on 3rd September with parliament due to be suspended from no earlier than September 9th and no later than September 12th until October 14th. MPs will then have two weeks in parliament until the Brexit date on October 31st. While time is certainly limited, the opposition to Johnson's announcement suggests that MPs will find away to mount a counter attack.
Senior Tory backbencher and former attorney general Dominic Grieve said the move could lead to a vote of no confidence adding that:
"There is plenty of time to do that if necessary [and] I will certainly vote to bring down a Conservative government that persists in a course of action which is so unconstitutional."
Market Reaction
The suspension of parliament has dramatically increased the chances of a no deal Brexit going through. By narrowing the time which MPs have in parliament, Johnson is eating away at the available opportunity for opposition MPs to effect any meaningful countermeasures.
However, the reaction lower in GBP so far has not been severe and suggests there is a level of cautious optimism in the market regarding the likelihood of a no deal Brexit being stopped.
Technical Perspective
GBPUSD
For now, GBPUSD has paused in its correction within the bearish channel from year to date highs. While below the 1.2382 level, focus remains on a further push to the downside with the 2017 1.20 lows, the next key support to break. Above 1.2382 and focus shifts to a test of the channel top. With the market remaining heavily short on GBP, there is the risk of a sharp squeeze on any headlines suggesting that MPs can take action.
EURGBP
While EURGBP has corrected lower over recent weeks, price has yet to trade back within the large bearish channel which was broken in July. Price briefly pierced above the 2017 .9302 highs to trade its highest levels since 2009, before reversing to trade back down through the .9097 support. For now, price is in limbo while the market awaits further details on the course of action which MPs take. Given the focus on stopping a "no deal" Brexit , it seems that there is plenty of upside GBP risk and we could see a spike lower in ERUGBP In reaction to further headlines.
Please note that this material is provided for informational purposes only and should not be considered as investment advice. Trading in the financial markets is very risky.